Blackhawk Ceiling Dome Antenna, 698 to 4000 MHz, Low PIM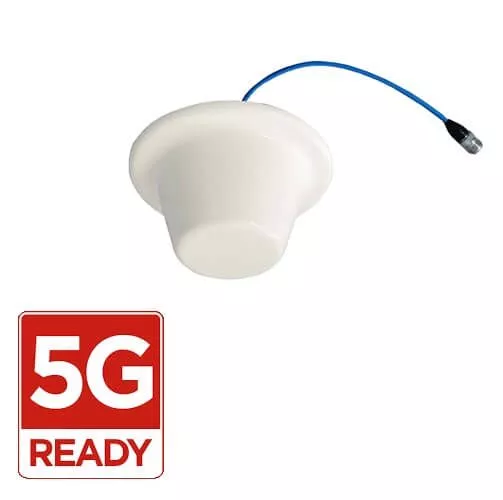 Blackhawk Ceiling Dome Antenna, 698 to 4000 MHz, Low PIM
Operating on all major 3G, 4G and 5G frequency bands, the Blackhawk Ceiling Dome Antenna is an ideal companion to Cel-Fi repeater systems installed in commercial and industrial buildings.
Indoor dome antennas are designed to be mounted to the ceiling of your building to provide consistently distributed mobile phone service from your Cel-Fi repeater/booster. The antenna is compact with a visually unobtrusive design similar to a smoke alarm, which also makes it suitable for installation in marine and caravanning.
Ceiling-mount antennas are installed by mounting through a ceiling tile or plasterboard and securing with its plastic wedge nut inside the ceiling space. The antenna's Low PIM design supports multi-carrier aggregation and multiple mobile services output through the one antenna.
FEATURES
2 dBi gain across lower bands 698 to 960 MHz
5 dBi gain across mid bands 1695 to 4000 MHz
Low PIM RG-402 cable tail with N female connector
| | | |
| --- | --- | --- |
| Connector | | N | 4.3-10 DIN Female |
| Dimensions | | ᴓ 186×86 mm |
| Weight | | 0.25 kg |
| Reflector Material | | Aluminium |
| Radome Material | | ABS (UV Stabilized) |
| Operating Temperature | |  -40°C to + 65°C |