Signal Max 4G-5G LPDA Antenna, 700 to 3800MHz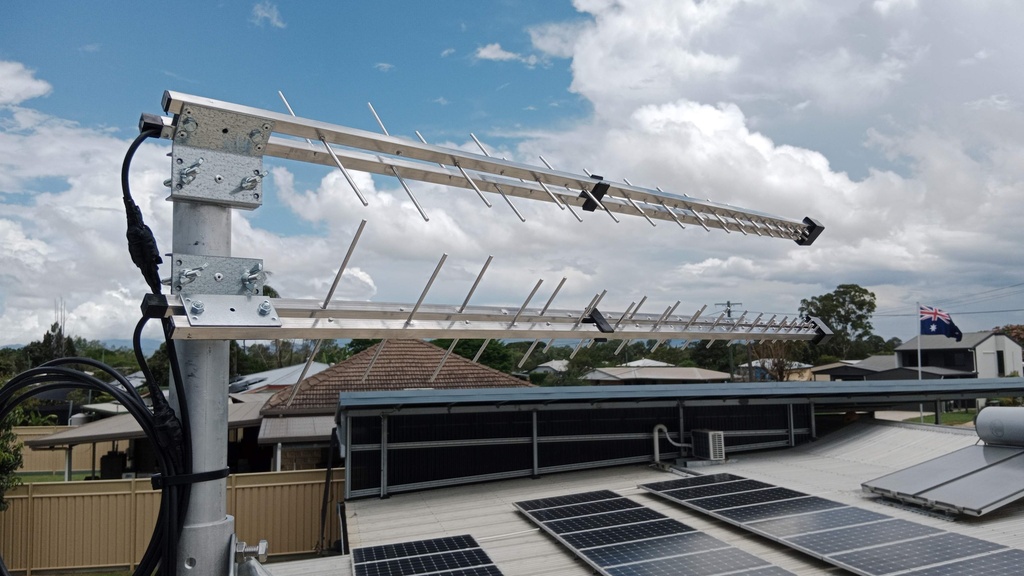 Signal Max 4G-5G LPDA Antenna, 700 to 3800MHz
Italian made 60 element wide band LTE (700-3800MHz) SISO antenna. N-Fem 10cm pigtail. Gain-7.5 to10.5dB
The LPDA antenna covers all cellular bands between the 700 and 4000 MHz range with a high peak gain which projects maximum energy in the direction of the cell tower, while maintaining a wide enough beam to capture signal reflections off nearby buildings, hills, and signal scattered by trees.
Designed to cover the new 3.5 GHz 5G band, making it now an ideal solution for LTE-A Pro and 5G high-speed connectivity when mounted in SISO or 2×2 MIMO configuration.
A Log Periodic Dipole Antenna, or LPDA for short, is a clever antenna design that provides exceptional wideband performance by phasing a series of elements together, much like an ordinary Yagi but with each successive element of a smaller (or larger) length. The result of this clever engineering is an antenna that holds high gain, with good tuning, across the entire cellular frequency range.
Features
9 - 10 dBi gain 690 to 960 MHz
10 dBi gain 1420 - 1530 Mhz
9.5 - 10.5 dBi gain 1710 to 2790 MHz
7.5 - 8.5 dBi gain 3200 to 3800 MHz
Front to Back Ratio 23 dB
Beamwidth @ 1800MHz, Horizonal 52deg, Vertical 44deg
VSWR <1.6:1
Length 1100mm
Max dia mounting pole 55mm
Italian made for Australian conditions
Fully welded, aluminium design
Stainless steel mounting clamp included
10 cm tail with pre-terminated N Female connector

Perfect for Telstra Next-G and 4GX networks, as well as Optus and Vodafone's 3G, 4G, and 5G networks.