Blackhawk 4G MIMO Omni Antenna, 700 to 2700 MHz, SMA Male 5m pre-fitted cable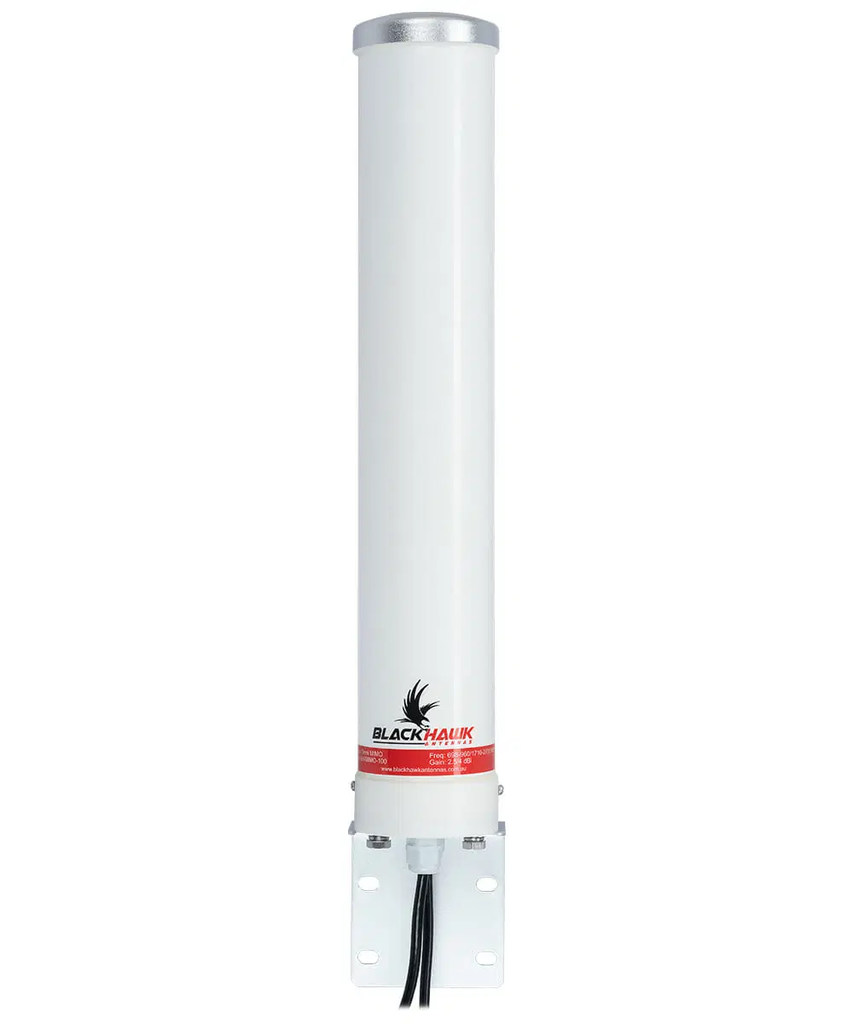 Blackhawk 4G MIMO Omni Antenna, 700 to 2700 MHz, SMA Male 5m pre-fitted cable
The Blackhawk MIMO Omni Antenna is a compact 4G LTE antenna that utilizes MIMO technology for superior signal reception. With two separate antenna elements and a ruggedized construction, it offers excellent data speeds across a wide frequency range. Pre-fitted with SMA male connectors for easy setup, it's the perfect choice for high-speed 4G LTE applications in extreme conditions.
The Blackhawk MIMO Omni Antenna is designed to enhance 4G LTE connectivity by incorporating two separate antenna elements that work in conjunction to receive signals from any direction. This setup allows for MIMO (Multiple Input Multiple Output) technology, specifically a V-V Pol configuration, which can provide up to twice the data speeds compared to using a single omni antenna.
Key features of the Blackhawk MIMO Omni Antenna include:
Frequency Range: The antenna offers a 2.5 dBi gain across lower bands, covering frequencies from 698 MHz to 960 MHz. It also provides a 4 dBi gain across upper bands, spanning from 1695 MHz to 2700 MHz. This wide frequency range ensures compatibility with various 4G LTE networks and carriers.

Rugged Construction: The antenna is built to withstand extreme conditions, making it suitable for outdoor use in harsh environments.

UV-Stable PVC Construction: The antenna's PVC material is UV-stable, meaning it can resist damage from prolonged exposure to sunlight, ensuring durability and longevity.

Stainless Steel Mounting Clamp: The antenna package includes a stainless steel mounting clamp, which simplifies the installation process and ensures a secure attachment.

Pre-Fitted Cables: The antenna comes with two 5-meter RG58 cables that are pre-fitted with SMA male connectors. These cables allow for convenient connectivity to a 4G modem, enabling users to quickly set up their 4G LTE applications.

High-Speed 4G LTE Applications: The antenna is particularly well-suited for high-speed 4G LTE applications, thanks to its MIMO capability, which enhances data speeds and overall performance.
Overall, the Blackhawk MIMO Omni Antenna is a compact, versatile, and ruggedized solution designed to optimize 4G LTE connectivity in challenging environments, making it an ideal choice for various wireless communication applications.