Blackhawk Trucker Edge 698-2200 MHz 6dBi Antenna v1.8 – robust thread (95cm)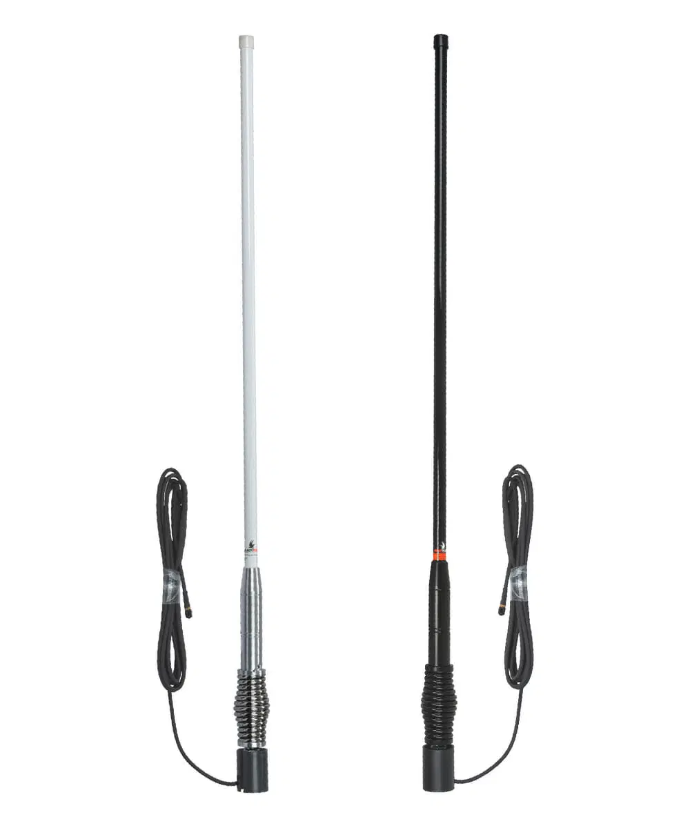 Blackhawk Trucker Edge 698-2200 MHz 6dBi Antenna v1.8 – robust thread (95cm)
The Powertec Trucker Edge Antenna: Unleash unparalleled connectivity on your journeys. Designed for optimal gain across 3G and 4G bands, this rugged bullbar antenna ensures superior performance in any terrain. With a durable construction and an industry-standard cable, it's ready for the 5G era. Stay connected with the Powertec Trucker Edge Antenna.
Introducing the Powertec Trucker Edge Antenna, the ultimate solution for seamless connectivity on your journeys throughout Australia and beyond. Engineered to deliver exceptional performance across 3G and 4G bands, this antenna is designed specifically for those who travel in diverse terrains, from flat remote areas to hilly landscapes surrounded by towering trees.
Equipped with an impressive 6 dBi gain, the Trucker Edge ensures optimal signal reception, allowing you to stay connected even in the most challenging environments. Its bullbar-mounted design features an extra-heavy-duty stainless-steel bell-spring, built to withstand rough corrugations and provide long-lasting durability. The strong tapered fibreglass radome guarantees consistent radiative performance in all directions, ensuring you have a reliable connection wherever your adventures take you.
The Trucker Edge comes with a 4.5-metre PTL-240 Ultra-Flex cable, renowned for its resilience against high vibrations commonly encountered in mining machinery and industrial plants. This industry-standard coaxial cable offers the lowest per-meter loss among cables of similar size, ensuring efficient signal transmission with minimal loss, so you can enjoy optimal signal strength throughout your journey.
Optimized for the cellular Low Band (700 to 960 MHz), which serves as the primary band for voice and data services for all network operators, the Trucker Edge antenna is future-proofed for the upcoming 5G (NR850) era. With the 3G switch-off on the horizon, this antenna is built to seamlessly transition to 5G technology, ensuring you stay connected with lightning-fast speeds and superior network performance.
Enhance your mobile communication capabilities with the Powertec Trucker Edge Antenna. Experience the freedom of staying connected on your travels, whether you're traversing remote regions, navigating hilly landscapes, or venturing into areas with dense vegetation. Stay connected, stay empowered with the Powertec Trucker Edge Antenna.