Nextivity CEL-FI GO G41-JE Building Pack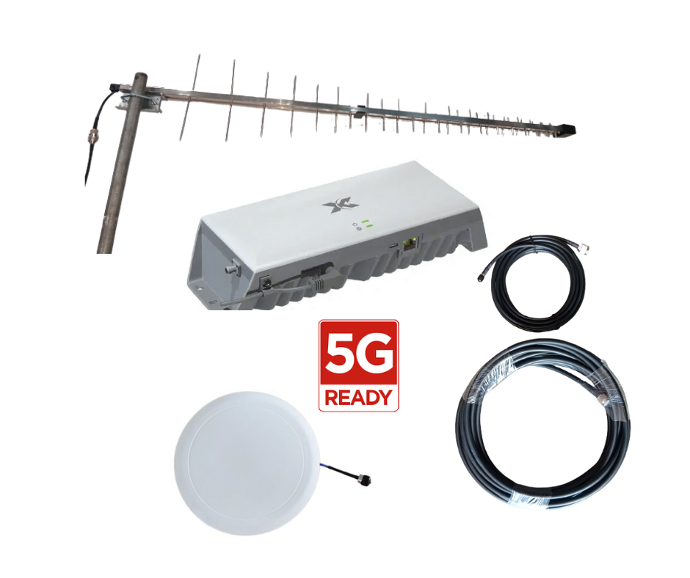 Nextivity CEL-FI GO G41-JE Building Pack
The CEL-FI GO G41-JE is a cutting-edge 4G cellular repeater with increased output power, broad frequency band support, and carrier flexibility for Telstra, Optus, and Vodafone. It offers extensive coverage and remote management options, along with an exclusive 3-year warranty offer.
Kit Includes:
G41 Stationary Repeater
SignalMax LPDA 4G-5G Antenna
Blackhawk Large Slimline Ceiling Antenna
12m Low Loss 400 Cable
6m Low Loss 240 Cable
The CEL-FI GO G41-JE represents the latest advancement in 4G cellular repeater technology. Building upon the success of the G32 model, the G41 offers significantly higher output power (+20 dBm), resulting in the broadest coverage area among all GO models.
The G41 operates across a wider range of frequency bands and can be conveniently switched between Telstra, Optus, and Vodafone-TPG networks (one carrier at a time) if you happen to change your service provider.
CEL-FI G41 is perfectly suited for indoor cellular coverage applications for Telstra, Optus, and Vodafone. The increased output power allows for more service antennas to be connected to a single repeater, and in response to popular demand, the unit now features an RJ45 Ethernet network interface for remote management.
Expanding on the dual-band functionality of the G32, the G41 supports carrier aggregation with a relay bandwidth of up to 40 MHz.
Key Features:
Compatible with 700L/850/900/1800/2100/2600 MHz (Note: 700 band is not supported on Vodafone)
Supports 3G, 4G, VoLTE, and NB-IoT (GO4 has 5G capabilities, which are currently disabled or not approved)
Carrier switching via the WAVE App, allowing seamless transitions between Telstra, Optus, or Vodafone (one carrier at a time)
Coverage area of up to 3000 square meters
Simultaneous relay on two bands
Total System Relay Bandwidth of up to 40 MHz
Remote monitoring, control, and alert capabilities through the WAVE Portal (for approved installers)
Ethernet Port for connecting to the internet source for real-time monitoring
Receive an additional 1-year FREE WARRANTY (for a total of 3 years)