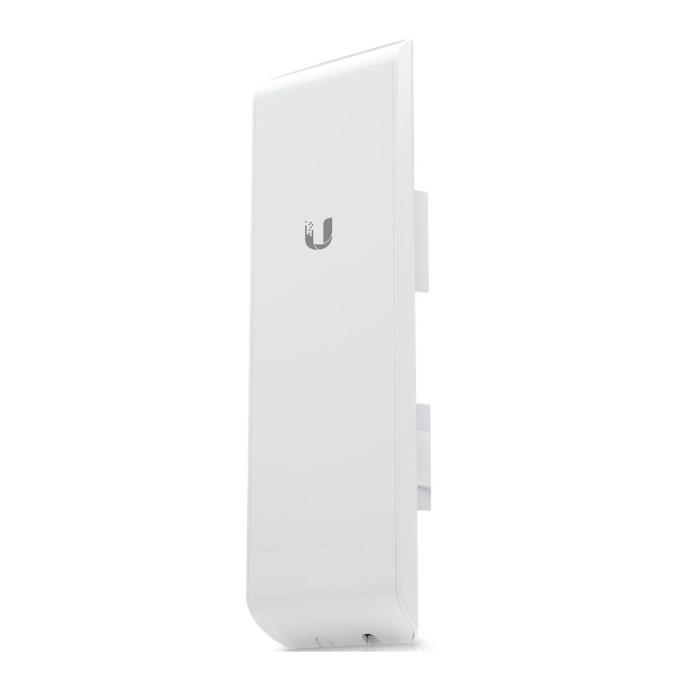 NSM5 NanoStation M5 5GHz
Ubiquiti's NanoStation: Revolutionizing broadband CPE with sleek design, high performance, and affordability for versatile deployment.
Important Note:Ubiquiti Networks takes industrial design to the next level with the NanoStation® series. The NanoStationM and NanoStationlocoM exemplify sleek form factors and integrated airMAX® (MIMO TDMA protocol) technology, setting new standards for low-cost and efficient broadband Customer Premises Equipment (CPE).
The NanoStation M5 showcases the perfect balance of affordability and performance. With a maximum transmission speed of 300 Mbps, it effortlessly serves multiple devices simultaneously. Utilizing the TDMA protocol, users can optimize transmission by scheduling time slots, reducing latency. Operating at a noise-free 5GHz frequency, it ensures stable connectivity. The integrated 2x2 MIMO antenna with a reach of 16dBi is ideal for multi-floor complexes. QoS support enables easy bandwidth allocation prioritization.
Powered by the Atheros 24KC MIPS chipset running at 400 MHz, the NanoStation M5 delivers robust performance with 32MB RAM and 8MB NAND Flash.
Equipped with "intelligent PoE," the NanoStation M5 offers convenient reset capabilities through its power supply, eliminating the need for direct access. Its dual Ethernet ports, including one dedicated for PoE, optimize power management and minimize cable clutter. You can even add an IP camera for seamless web-based property monitoring.
The NanoStation M5 provides various connectivity options, serving as both an access point for multiple device connections and a client for bridge connections to other networks. This flexibility makes it a valuable addition to any networking system.
Monitoring the NanoStation M5 is a breeze with its integrated strength indicators and LED pairs.
With its compact CPE design, the NanoStation series has revolutionized the global Wireless ISP industry, expanding possibilities and delivering exceptional performance.
For outdoor installations, surge protection is essential
Ubiquiti recommends using two Ethernet Surge Protectors (ETH-SP)
ETH-SP absorbs and safely discharges power surges for protection