Ruijie Reyee RG-RAP2260(E) AX3200 WiFi 6 Ceiling Mount WiFi Access Point, 802.11ax 3.2 Gbps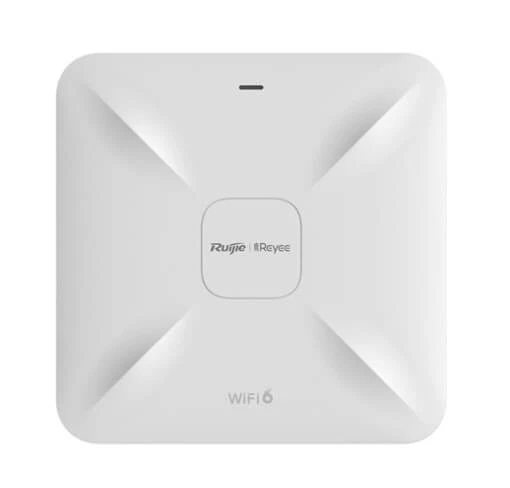 Ruijie Reyee RG-RAP2260(E) AX3200 WiFi 6 Ceiling Mount WiFi Access Point, 802.11ax 3.2 Gbps
The Ruijie Reyee RG-RAP2260(E) AX3200 Wi-Fi 6 Multi-Gigabit Ceiling Mount AP is a high-performance Wi-Fi 6 AP for indoor large-area Wi-Fi coverage scenarios. The device requires either 802.3at PoE and 12V DC local power supply.
The dual Ethernet ports design facilitates the expansion of third-party devices to meet the needs of more networking scenarios. Compliant with 802.11a/b/g/n/ac/ax Wi-Fi protocol, they all offer built-in omni-directional antennas.
FEATURES:
Compatible with POE RG-E-130(GE)
Supports dual-band technology and MU-MIMO
Also supplies advanced technology about quad-stream
Provides higher speed wireless access of 8–Mbps at 2.4GHz, 2402Mbps at 5GHz
One ethernet port is a Multi-Gigabit Ethernet (2.5GE) port that breaks through the bottleneck of transmission performance.
Build ultra-high performance network with 3202Mbps wireless throughput.
Client connections over 500, provide higher practical performance for users as well.
Easily install extra AP with Reyee Mesh technology.
Set up Wi-Fi 6 network in 3 minutes with Ruijie Cloud APP.