Tiandy 2MP IR Dome Wi-Fi Camera Kit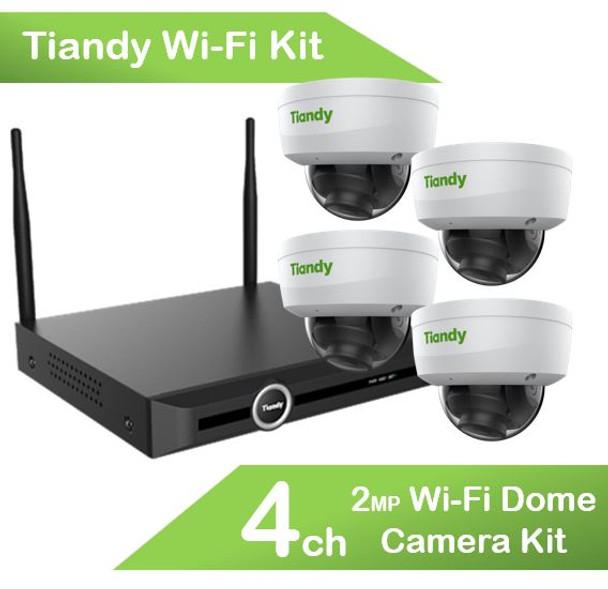 Tiandy 2MP IR Dome Wi-Fi Camera Kit
Tiandy 2MP IR Dome Wi-Fi Kit, 4x 2MP Fixed IR Wi-Fi Dome Camera, 1x 5 Channel Wi-Fi NVR, No HDD Included
Tiandy 2MP IR Dome Wi-Fi Kit includes a package of 4x 2MP Fixed IR Wi-Fi Dome Cameras and 1x 5 Channel Wi-Fi NVR (Hard Disk Drive not included).
Camera Features:
Resolution: 2MP with a maximum resolution of 1920X1080@30fps
Codec: S+265/H.265/H.264
Minimum Illumination: Color: [email protected]
Smart IR technology with an IR range of 30m
Operating Conditions: -40℃ to 60℃, 0 to 95% RH
Supports Wi-Fi connectivity, IP67 rating for outdoor use, and IK10 for vandal resistance
Comes with a 3-year warranty
NVR Features: HD Input:
Supports S+265/H.265/H.264 video formats
Allows live view, storage, and playback of connected cameras at up to 6MP resolution
Enables Wi-Fi pairing with Tiandy Wi-Fi IP cameras
HD Output:
Simultaneous HDMI and VGA output
HDMI video output at a maximum resolution of 2560×1440
HD Storage:
1 SATA interface supporting up to 10TB storage for 1 HDD
S+265 compression reduces storage space and costs by up to 75%
HD Transmission:
Equipped with 1×RJ45 self-adaptive 10/100 Mbps network interface
Various Applications:
Centralized management of IP cameras, including configuration, information import/export, real-time information display, and upgrades
Compatible with Tiandy smart IP cameras for recording, playback, and VCA alarm backup
Supports VCA detection alarm
Web6 allows plug-in free browsing and video preview on all browsers
Cloud upgrade support
**Important Notice: Installation of this equipment must be carried out by a certified security agent holding the appropriate Security License for the relevant State. By purchasing this/these items, you acknowledge and accept this requirement.