3G-4G MIMO XPOL Panel Antenna, 698 to 2700 MHz + 2x 10m cable + modem patch leads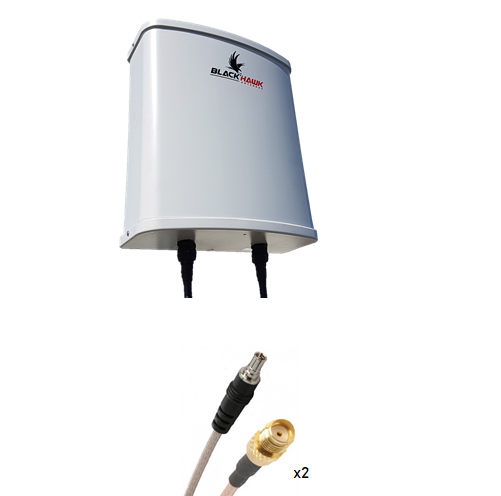 3G-4G MIMO XPOL Panel Antenna, 698 to 2700 MHz + 2x 10m cable + modem patch leads
MIMO panel antenna suitable for 4G Wireless Data Modems
Experience lightning-fast 4G data speeds with the Blackhawk MIMO Panel Antenna, the ideal solution for areas with weak 4G signals. Designed to provide maximum performance in areas with interrupted signals, nearby buildings and trees, or those located too far from a cell tower for a reliable connection, this antenna boasts a moderate-high 8 to 9 dBi gain.
Panel antennas are the most popular choice for mobile broadband, thanks to their 60° receiving angle. This means the antenna only needs to be rotated in the "rough" direction of the cell tower to achieve maximum gain. With true ±45° "XPOL" polarization, this antenna offers total separation of the two data streams transmitted by the cell tower, resulting in near 100% increase in speed over a single polarized antenna.
This well-designed antenna features fully engineered microwave-grade internal components, and its compact, visually unobtrusive design makes it an excellent choice for any location. It operates over an extremely wide frequency range of 700 to 2700 MHz, ensuring your connection remains compatible with the rollout of LTE-A Pro CA (carrier aggregation) technologies.
Don't let weak cellular signals slow you down. Improve your signal strength for voice calls, SMS, and data by connecting an external antenna to your modem. Choose the Blackhawk MIMO Panel Antenna for lightning-fast 4G data speeds and reliable connectivity.

Packs are suitable for:
Telstra 4G Netgear Nighthawk M2 and 4GX Hotspot